Let the full weight land on you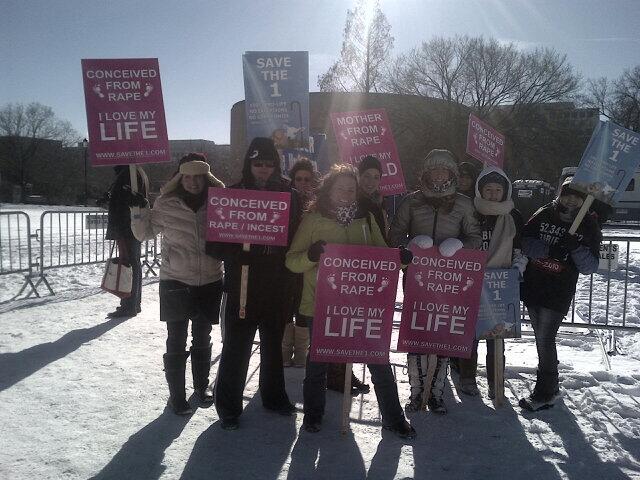 Also, here's nice set of photos covering the March for Life event yesterday. Praise God for those who could brave the weather to speak up on behalf of those who cannot.
Photo via @kathrynlopez
HT Denny Burk
Leon Brown:
There are many impediments to witnessing (i.e., sharing your faith). Many of us are absolutely terrified. Beads of sweat begin to moisten our backs merely at the thought of evangelistic outreach. Sometimes we think it is better left to the professionals. They will say the right things; they will have all the answers; they will navigate the witnessing conversation appropriately. The list of impediments, some of which may be better categorized as excuses, is extensive. However, when you finally muster the courage to talk to others about Jesus, there is another force that prohibits you. In fact, it is not something you can control. It is technology.
Mark Altrogge:
Beware the thought that says, "A little bit won't hurt." That's a lie from hell.

Would you drink a glass of water if I said to you "There's just a tiny bit of arsenic in this, but it won't hurt you"? What airline would let someone board who said, "I only have a small bomb with me"?
Wendy Sachs on the new book, The Big Lie: Motherhood, Feminism, and the Reality of the Biological Clock:
Perhaps one of the greatest myths today is the ability of science to step in and make babies for women at virtually any age. Selvaratnam says that we see the success stories, but rarely hear about the huge numbers of failed attempts. A 2009 report on Assisted Reproductive Technologies, or ARTs, by the Centers for Disease Control and Prevention found that the single most important factor affecting the chances of a successful pregnancy through ARTs is a woman's age. Selvaratnam reports that at age 40, the chance is 18.7%; at 42, it's 10%; at 44, it's only 2.9%.

"We are the guinea pig generation for testing the limits of our fertility, or our chances of having a child. The shock and the lack of preparation when you're not prepared and the pressure women feel in general about our reproductive selves adds to the shame women feel when they can't get pregnant," Selvaratnam said.
Over at Westminster Books, Paul Miller's new book, A Loving Life: In a World of Broken Relationships, is on sale for 50% off, or 62% off if you buy three or more copies. This sale ends today.